Motor control MST 102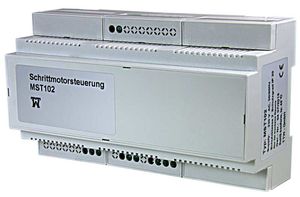 Allows the 3 point controller MST 101 to be operated with a stepper motor as actuator.
For bipolar step motors up to 2A phase current
Phase current monitoring adjustable (chopper)
Two speeds selectable (Jumper)
Connection Diagram MST 102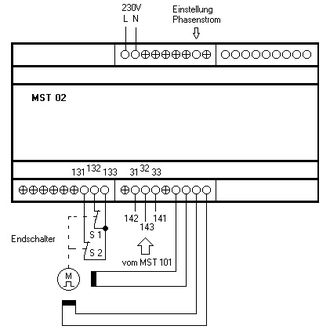 The phase current is set at the setting resistor (top). After removal of the terminal cover (bottom left) the jumper is accessible for changing the speeds.
Orbital period:
Jumper open; 12 sec / revolution
Jumper set; 6 sec / revolution
Further speeds are possible by arrangement
General Technical Data MST 102
| | |
| --- | --- |
| Operation voltage | 230 V AC ±10% ; 50 Hz |
| Fuse internally | 500 mA, träge |
| Energize | max. 25 VA |
| Output voltage with internal power supply | 12 V DC |
| Output voltage with external power supply | max. 24 V DC |
| Phase current per phase with external power supply | max. 2A per Phase |
| Connection | max. 1,5 mm² |
| Mass | ca. 820 g |
| Protection degree | IP20 |
| Ambient temperature | +5°C bis + 40°C |
| Storage temperature | +5 °C bis +80 °C |
| Dimension housing for top-hat rail montage (BxHxT) | (160x90x60) mm |
| Install | DIN-top-hat rail |
| Approbation | CE, EN61000-6-3, EN61010-1 |