Adjustable Isolating Transformers Series LTS

These devices have been specially developed for use in the laboratories and industielly area. They impress with an absolutely clean sinus at the exit. You do not get a composite signal, a "clean" sine corresponding to the input.
The devices are phase-insulated and offer a high level of safety during operation.
You can choose the devices with digital or analogue displays. Furthermore, on request a TEB can be integrated which limits the inrush current. Power supplies with additional possibilities such as data logging, measuring range selection and USB interface can be found under the heading "profiline". We would be pleased to deal with your specific requirements and implement power supplies according to your specifications.
Technical Data
| | | | | | |
| --- | --- | --- | --- | --- | --- |
| Type | max. Current Input/Output (A) | Mass (kg) | Wide (mm) | High (mm) | Depth (mm) |
| LTS 602 | 2,3 / 2,0 | 12 | 452 | 146 | 252 |
| LTS 604 | 5,5 / 4,0 | 18 | 452 | 190 | 312 |
| LTS 606 | 8,0 / 6,0 | 24 | 452 | 190 | 312 |
| LTS 610 | 12/ 10 | 40 | 460 | 230 | 320 |
Adjustable Isolation Transformers with Digitals Instruments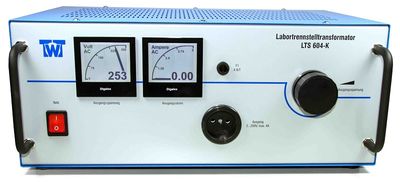 Digital instruments (pointer and number display)
Step less setting regulation of the voltage from 0 to 250 V
Clean sine at the output
Robust metal housing
Security by phase separation
Robust in use
Extraordinary longlife
Available in German and English
Adjustable Isolation Transformers with Analog Instrumenten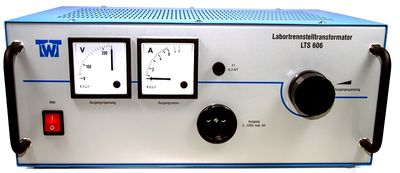 Analog instruments (pointer and number display)
Step less regulation of the voltage from 0 to 250 V
Clean sine at the output
Robust metal housing
Security by phase separation
Robust in use
Extraordinary longlife
Available in German and English