Motorenregelung MST 101 für AC-Motoren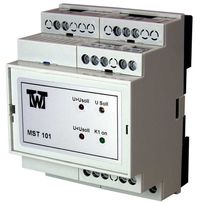 This 3-point controller has been used as a limit switch for controlling motorized actuators,
valves,

pumps,

thermal units, etc.
Function: Comparison of an analog input variable with a setpoint range (0-10VDC). If this range is exceeded or undershot, an actuator is activated via the corresponding output, which compensates for the control deviation. For example, The MST101 enables the voltage regulation of a motorized actuator transformer. In conjunction with a corresponding measuring transducer (0-10V), other parameters can also be controlled. Via its digital outputs, the controller can be integrated into a PLC control or connected to the stepper motor control MST102 (optional).
MST 101 with RC Protection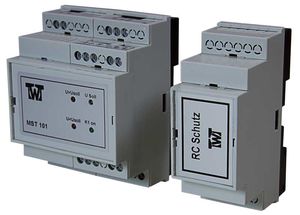 This 3-point controller has been used as a limit switch for controlling motorized actuators, valves, pumps, thermal units, etc. Function: Comparison of an analog input variable (0-10VDC) with a setpoint range. If this range is exceeded or undershot, an actuator is activated via the corresponding output, which compensates for the control deviation. For example, The MST101 enables the voltage regulation of a motorized actuator transformer. In conjunction with a corresponding measuring transducer (0-10V), other parameters can also be controlled. Via its digital outputs, the controller can be integrated into a PLC control or connected to the optional stepper motor control MST102
General Technical Data MST 101
Operating voltage

160...253 V AC; 50 Hz

Fuse internally

80 mA, time-lag

Energize

approx. 5 VA

Control accuracy, based on the control range end value

± 1,0 %

Actual value

Measurement-/Inputsignal AC (converter)

Measurement-/Inputsignal DC

0...253 V max.

0...15 V max.

Input impedanz - AC Input

≥ 90 kOhm

Input impedanz - DC Eingang

> 5 kOhm

Set Point Setting (reference signal)

per Jumper selection

about internal potentiometer
or external potentiometer
or external DC – signal

1 bis 100kOhm

Uref : 0...10V DC; input impedanz >1MOhm,

ripple: max.2 mV

Output

Output switching capacity (Triac-NO)

130 VA; modifiable with change-over relay 250V/10A

Response / delay of the outputs

10 ms

MOSFET-Level 15V DC High Level

Potential free switchable connection 250VAC/16A

(modifiable release)

Control rate

Depending on the used motor

Control parameters

47 mV max. (Can be reduced in four steps by means of jumpers)

Mass

approx. 330 g

Protection degree

IP20

Ambient temperature

+5°C bis + 40°C

Storage temperature

+5 °C bis +80 °C

Dimension Housing (BxHxT)

(70x90x60) mm

Install

DIN-top-rail

Approbation

CE, EN61000-6-3, EN61010-1