Base Plate Simson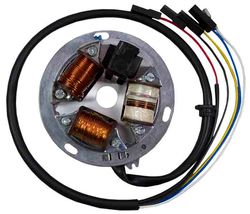 We are original supplier of base plates for the Simson Type S51 with electronic ignition:
6 V ignition and alternator
12 V ignition and alternator
Thalheimer Transformatorenwerke GmbH – The Original-Simson-Ignition System Manufacturer
The Electromagnetic-Magnetic-Ignition-Systems (EMZA) were manufactured until 1992 at the company Elektriklektrik Chemnitz. In 1992 the vehicle electrics Chemnitz was unwound and parts sold, including the entire production of the ignition systems. The Thalheimer Transformatorenwerke purchased the rights, the tools, the remaining material as well as the assembly sites for the production of the EMZA including the takeover obligation of 10 employees. The production plants Were implemented and the production of the EMZA started again at the end of 1992. In Thalheim, approximately 10,000 EMZA units were manufactured each year and sold to Simson. At that time the target manufacturers were the manufacturer itself and the spare parts market.
In 1993 a board-integrated charger was developed and produced.
The production of the EMZA ran so well in those days, that a further development was discussed. The ignition or alternators should have a higher power than the previous ones, and do not influence the long service life. Unfortunately the project could not be completed because Simson had to stop his participation for financial reasons. However, production has continued at the Thalheimer Transformatorenwerke and it continues to this day. The Thalheimer Transformatorenwerke were able to hold their own in the market. The competition from Far East also failed to copy the high quality and longevity of the ignition systems. In the present period, 3-4 thousand units are manufactured annually, which are destined exclusively for the spare parts market. And the demand continues to rise.
Anyone who needs a base plate for his Simson, whether 12V or 6V or a conversion to 12V, is equipped with an ignition system Made in Thalheim and thus Made in Germany very well advised. The Thalheimer transformer plants are still the only original part manufacturer of the 12V and 6V electronic ignition systems.